The timely stocking of goods is the critical function of inventory management. Construction activities totally depend on a robust and strong inventory system, as 50% of construction expenses are met by the material management process. And to manage effective management, to achieve the timely supply of materials and equipment and to reduce the cost of projects, a well-planned material management program is required.
If the inventory module gets integrated with finance and purchase then it allows ERP system to generate the high executive-level report. And each of the important information of your organization is maintained by this module which majorly depends on inventory costs, location and availability.
An inventory management system  focuses on the below aspects:
Monitors inventory levels
Alerts when stock is low
Suggests re-order quantities
Automates purchase orders
Increases visibility
Labels pre-committed inventory (production work order, customer)
Supplies detailed inventory history
Tracks & traces materials used
What are the Challenges :
Tighter construction budgets and timeline.
Secured transactions with rule-based access.
Technulogy adoption, unskilled labour and labour shortages.
Our training and support team helps in full implementation and staff deployment.
Relying on manual processes.
The fully cloud-based system with automated reports.
Multiple site management on multiple locations.
Access multiple sites from one location.
Total count of Assets, Resources and labour.
Real-time access to Inventory from any part of the world.
Maintenance and Servicing.
Plan Service schedules for Equipment and Assets and get notified on due dates.
Inventory Contrul and Waste Management :
Ease up the procedure of Material transfer and storage by the prior assembling of item racks in-store, at multiple locations by accessing the consulidated database.
Real-time information from the inventory item record, including :
Stock status by location,
POs (with drill-down detail),
Vendors,
Bill of Material,
Uses in other equipment's BOMs,
Client Order Processing (COP) Sales,
Special pricing.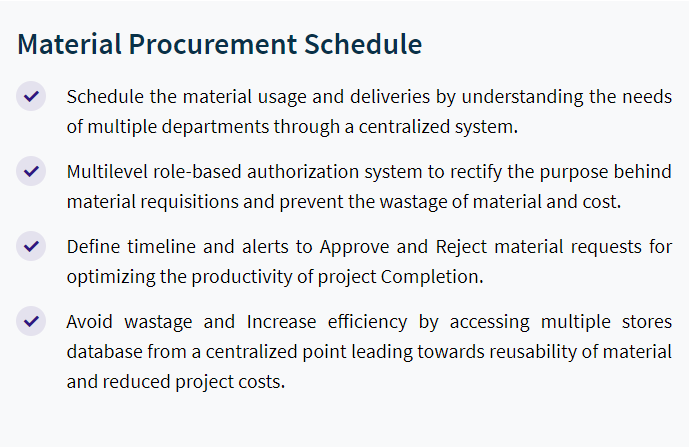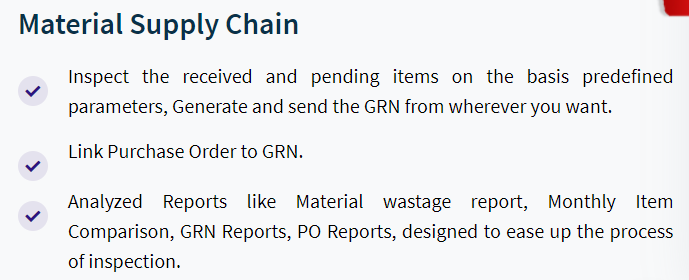 Inventory Management Software for Field Service & Construction Contractors
Inventory management and procurement are more than a process. It is a dynamic, ever-changing practice that can quickly impact the bottom line when service and construction materials are delayed or unavailable.
Features :
Complete visibility of your inventory
Quickly glance at available stock while receiving new order
Prevent shortage of critical raw material
Use barcode to achieve end-to-end item tracing
Track your Purchase & Sales Transactions
Get a timeline view of every activity in sales and purchase
Post comments in real-time and tags your team members
Faster documentation and proactive tracking to keep you ahead of deadlines
Your all-in-one dashboard on the cloud
Track the overall health of your business in real-time
Keep an eye on your quotation to order conversion
Get timely payment by automated notifications and reminders
NWAY ERP has designed its Construction Inventory Module to help construction companies finish projects within budget and time. Each Module has been developed to work in sequence and provide the best Construction ERP Software to help customers to build their dream.